The jovial celebration of each passing year also ushers in a sense of unease and uncertainty: what will we face next? In 2020, nonprofit teams face new risks brought on by global megatrends as well as a few familiar risks that continue to morph and present new challenges.
The NRMC team anticipates these risk trends as the forefront issues for nonprofit leaders to address and overcome. We invite you to critique our predictions and share your own risk forecast with NRMC's Executive Director, Melanie Lockwood Herman, at Melanie@nonprofitrisk.org.
1. Ignite the Reskilling Revolution
The World Economic Forum calls for a reskilling revolution to empower workers around the world to remain competitive as employers develop "the talent they need for the jobs of the future." Reskilling and upskilling enable employees to survive in the new work world where traditional roles continue to morph or decline, largely due to the influence of technology. Smart employers are eager to invest in reskilling existing employees as they begin to recognize the potential skills gaps their teams will face in the future. To support a reskilling revolution, thought leaders call for new leadership philosophies and environmental support that give greater agency to individual team members. As a global collective, individual contributors have already demonstrated their self-efficacy and desire to learn and apply new skills in their existing roles (upskilling) and in new roles (reskilling).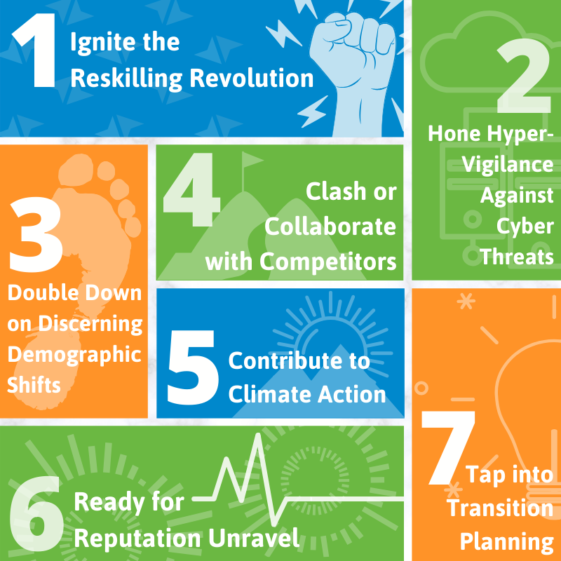 Not surprisingly, willingness to learn is influenced by factors such as an individual worker's type of employment as well as the person's underlying beliefs about how global economic shifts might affect their livelihood. According to "Why Companies Are Failing At Reskilling," by Lauren Weber (The Wall Street Journal, April 2019), each nation's economic strategies influence the realities of reskilling, with some workforces benefiting from longstanding taxpayer-funded training programs for workers across their lifespans, unlike the US government, which supports public education through age 18.

The article also highlights major US employers now striving to anticipate the learning capacities of their existing workforces, recognizing that mass layoffs and new hires may no longer be the most affordable or fruitful approaches to filling looming skills gaps. To better conceptualize the future of the global workforce and anticipate the skills gaps your nonprofit might face, explore these additional resources:
2. Hone Hyper-Vigilance Against Cyber Threats
As data privacy breaches and acts of cyber terrorism continue to grow in complexity and prevalence, nonprofit cybersecurity controls and contingency plans must keep pace. Defining, quantifying, and adequately preparing for these nebulous exposures is arguably impossible. According to recent research by McKinsey and the World Economic Forum, "… most technology executives believe that they are losing ground to attackers. Organizations large and small lack the facts to make effective decisions, and traditional 'protect the perimeter' technology strategies are proving insufficient." The research also indicates that poorly managed corporate responses to data breaches often result in more harm than the actual breaches, yet leaders continue to delay investing in technology solutions and other preventive measures. Another growing cyber risk to advocacy organizations is Internet vigilantism: when a person or group launches a targeted attack online against an individual or organization with whom they disagree philosophically or politically. Startling cyber statistics include:
The news isn't all bad when it comes to technology. Nonprofits teams are beginning to adopt Artificial Intelligence software to streamline administrative processes, identify qualified job candidates, identify and prevent fraud and abuse, and more. Sector leaders must remain vigilant against cyber threats while reaping the rewards of innovative technologies. Learn more from these resources:
3. Double Down on Discerning Demographic Shifts:
The call for increased diversity and inclusion in the workplace often fails to include a clear analysis of the changing demographics of the US population. The US is comprised of vastly different people and cultural groups than it was thirty years ago, but nonprofit sector leadership looks more or less the same. Aside from the challenge of cultivating representative leadership, the sector has long been challenged to effectively fundraise during demographic shifts, when community attitudes about philanthropy impact giving practices even more than economic fluctuations. While changing demographics influence the sustainability and reputation of most charitable organizations, all nonprofits currently face a crucial call to revamp their programs and services to better meet the needs and uplift the cultural values of the communities they represent. The communities you once knew intimately might now be filled with new faces, new personalities, new belief systems and values, new hopes and dreams for the future, and new struggles that define daily existence in America. Any nonprofit not yet invested in demographic research should thoroughly assess the changing needs and expectations of the community it serves.
4. Clash or Collaborate with Competitors
The rise of the B-corporation signaled an era of entrepreneurship focused on cultivating social impact and financial gain. As for-profits grow their CSR campaigns or participate in social and environmental causes, they further encroach on territory that was once reserved for nonprofit missions. The growing cadre of social-good for-profits represents substitutable competitors that fill the needs of the same communities many charitable organizations serve. This richer selection of service providers offers greater capacity to help those in need. Healthy competition will also serve to hold nonprofit leaders accountable while encouraging programmatic innovation and disruption of any service models that demonstrate questionable community impact. In 2020 and beyond, be ready to prove your organization's stewardship and impact capacity against that of your competitors, or be ready to turn those competitors into cooperative co-stewards of your mission. Be careful not to self-sabotage by relying on your nonprofit status as a differentiator.
Read the full article here